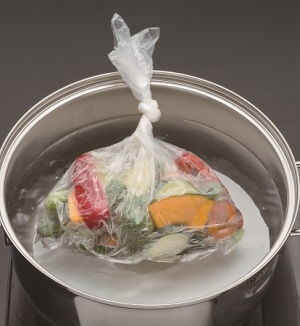 The use of plastic bags is, of course, to store foods. However, using plastic bags for boil-in-bag cooking (picture above) is the recent trend,
which foods are packed in plastic bags and boiled.
Our bags endure temperatures from -30℃ (-22℉) at lowest to 110℃ (230℉) at highest, so this is the best choice for it.
OP-25

・Bag size: 25 x 35 cm
・Thickness: 0.015mm




R-26

・Bag size: 26 x 39 cm
・Thickness: 0.025mm